Bedroom Home Staging
Depending on the number of bedrooms in a house, bedroom staging may consist of a master bedroom sanctuary, a home office, a workout room, a hobby room, or even a playroom for children. 
If there is only one bedroom in the house, definitely consider setting up luxurious sleeping accommodations that tell the prospective buyer this is a room for them to rest and rejuvenate.  
When there are multiple bedrooms to stage, the list of staging options become more creative. Showing the buyer all the versatile options for converting bedrooms to functional rooms that work with their lifestyle helps close the sale.
Staging a Master Bedroom to Help Sell a Home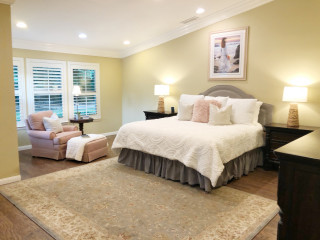 There is something about a master bedroom that compels us to think sanctuary, calmness, and rejuvenation. For most people, it is a room where they will spend about a third of their life. 
The primary use of the master bedroom, of course, is for a goodnight's sleep. Some easy changes could compel a would-be buyer to make a full-price offer quickly.
A room with a retreat, including a cozy comfortable reading chair, small table, and reading light resonates quiet time and solitude. A simple writing desk against a window allows for ease of reading emails on the laptop or even a secondary place to work. 
A window seat filled with pillows and soft throws is a reminder that a leisurely day awaits the prospective buyer who puts in his or her offer full price offer. 
Critical in staging a master bedroom is removing all clutter, personal photos, and any excess clothes or shoes lying on the floor. Fresh linens, a down comforter, five or six décor pillows on the bed will help create an inner room sanctuary. 
Make the master bedroom staging count. It's an important room in the house for prompting would-be buyers to make offers.
The main bedroom or master bedroom is always considered a priority when home staging.  This room becomes more important when it is multi-functional. At the top of the home staging list is a master bedroom that has a feeling of symmetry and calm.
Walking into this room, a prospective buyer needs to feel a sense of tranquility, peacefulness, and even a sense of luxury. Consider using these materials when staging a master bedroom:
Plush bedding

Down comforters

White linen sheets

Colorful décor pillows

Soft and luxurious throws 

Artwork over the bed
All of these décor accessories provide the staging effects that help make the potential buyer make an offer. 
Symmetry helps create the calmness with bedroom staging. Matching nightstands, with identical table lamps, builds on a room where calm is necessary.  In a world of chaos, the master bedroom is looked upon as a true retreat, an inner sanctuary, and a place to rejuvenate. 
A beautiful, yet simple vase of greenery and floral complement the nightstands. A dresser may entail an elegant piece of artwork or a simple décor accessory. Clutter is unacceptable in a bedroom where buyers want perfection. When home staging a master bedroom, it helps to think "model home." Everything must have its place and be picture perfect.
Staging a Small Bedroom for Guests
Small bedrooms can be challenging when staging it to accommodate guests. The key to making a small bedroom appear bigger is to use light bright paint colors. A neutral, but light paint will help to give the perspective of a larger room. In real estate, the bigger the room is perceived to look, the more valuable the property, and the more valuable the property, the higher the offers.
Light-colored or sheer window treatments will help to give the illusion of more space when bedroom staging. A queen-size bed is the standard bed to use in home staging, and if possible should be used even with a small bedroom.
If room permits, use a small writing desk on one side of the bed with a matching height nightstand on the opposite side. Multi-purposing this room by adding the writing desk helps the prospective buyer to imagine the multi-functional uses they can create for their guest room. 
Identical reading lamps on either side of the bed will help balance the room. A simple artwork over the bed will draw the eye to the bed and artwork, creating the key focal point for this room. Lush bedding, down comforters, and pretty décor pillows can easily put the finishing touches on a guest bedroom.  
Before and After Bedroom Staging Images
Before and after bedroom staging images help sellers get acquainted with how to stage a bedroom. When researching these images (available here on this website) note the before staging images and some key elements:
Paint color

How the furniture is arranged

Amount of clutter or accessories

Lighting

Window treatments

Bedding
Then go back up to the BEFORE/AFTER photo and see the incredible transformation. Even using furniture in homes that are occupied by the seller, a room can take on a very different look and feel. 
Staging bedrooms is like staging any other room in the house for sale. Every room must be identified for its purpose and a focal point created. In bedrooms, the bed is the focal point. Place the bed on a wall that is seen immediately when entering the room. 
Add personality and interest to bedroom staging by layering the bedding.  Fold a down comforter at the base of the bed. Turn down the bedspread to expose pretty white sheets. Add some texture in various types of décor pillows that tie in with the main color of the artwork over the headboard. 
Select a piece of art that goes over the headboard or let that piece of art take the place of a headboard.  Add at least one nightstand or small chest at the side of the bed. Two nightstands are more pleasing to the eye. Everything in staging is setting up the perfect marketing conditions to make the potential buyer make an offer.
Staging a Living Room < Want to Check it Out Now?